You already know that starting a nonprofit takes dedication and hard work. The entire process of registering and funding a brand new nonprofit organization might feel overwhelming, but there are plenty of resources out there to help guide and support you through the process.
Startup grants are one major source of support for new nonprofits. In the for-profit business world, these grants are akin to seed money from investors.
Grant-giving foundations, government agencies, and other funding bodies support the work of both established and new nonprofit organizations. This support allows nonprofits to pursue their missions and contribute to a more philanthropic world.
In this guide we'll cover the main sources for these kinds of grants, plus some extra tips for finding startup funding:
Understanding each primary source of nonprofit support will go a long way toward getting your nonprofit up and running.
Before You Get Started, Make Sure You Have The Basics In Place.
While starting a nonprofit isn't easy, having strong initial support is key to laying the groundwork for long-term success. Yes, startup grants can be great, but they're not 100% guaranteed. You need additional funding sources that are reliable, accessible, and highly effective.
Using resources like online donations software is important because it sets your nonprofit up for growth and shows grant-giving institutions that you're thinking through the practical aspects of running a nonprofit. You're in it for the long haul!
The right donation tools also make the giving process easier for your supporters. Look for technology that allows for complete donations in a few clicks, and that makes it just as easy to set up recurring donations— which are crucial to long-term engagement.
Corporate Giving Programs for Nonprofit Startups
Corporate philanthropy is a major part of the nonprofit world. If you're unfamiliar with the key types of corporate philanthropy programs, now's the time to change that. Your nonprofit will almost certainly be interacting with them in the future.
These are the three main types of corporate giving programs that support nonprofits: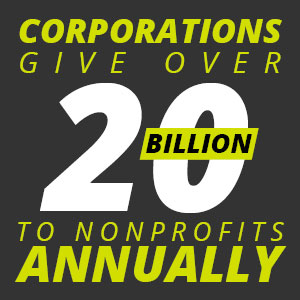 Matching gift programs. Companies financially match the donations made by their employees to eligible nonprofits. Raising awareness for these programs and collecting donor employment information will help you to capitalize on these programs.
Volunteer grant programs. Companies will financially match the time that employees donate to your organization by volunteering. Similar to matching gift programs, many volunteer grants can be quite generous.
Other donation requests. Many companies happily support nonprofits through other programs or individual policies. These are where your new nonprofit should focus to secure initial or early corporate startup grants before you've grown an extensive donor or volunteer base.
You've already put in all the hard work to complete your 501(c)(3) application, but now it's time to conduct even more research. If you want corporate support for your nonprofit organization, you'll need to identify companies that might be interested in helping you pursue your mission.
For example, Home Depot's Framing Hope program focuses on supporting nonprofit and community-based rebuilding efforts by donating materials. If your new nonprofit's first major project involves construction in any way, this corporate giving program is definitely worth exploring.
Check out Double the Donation's guide to corporate donation requests for more examples of programs like this one.
Individual corporate giving programs and nonprofit startup grants vary widely by company. Some are topic- or region-specific, and others provide either financial support or in-kind donations to help get your projects started. This means you'll need to research your options and determine which corporate giving programs might be the best fit for your nonprofit.
Grant-Giving Private Foundations
Private foundations and grant-giving endowments are probably what most people think of when they hear the term "nonprofit startup grants," and for good reason! Many privately funded foundations exist solely to better society by supporting nonprofit organizations.
If your nonprofit is just starting out, though, it can be tricky to know where to begin— especially when you don't yet have a major program of outreach or engagement events established yet. This is when it can be extremely useful to familiarize yourself with the major grant-giving foundations that operate in your region.
For instance, here are some of the top grant-giving foundations in Georgia. Let's say you just started a nonprofit in Atlanta. Beginning your startup grant research with this list would be a smart move. Even if you don't immediately find a grant that aligns with your mission, you'll have a better idea of the kind of support available from local grant-giving foundations.
Many foundations will happily provide startup funding to new nonprofits. You'll typically need to approach the foundation first, and it will then determine whether supporting your startup aligns with its own mission. It's helpful to have some materials already prepared, including:
A cover letter to inquire about startup funding
A business plan for your organization, or other structural plans
A description of your mission and the need your nonprofit will address
Projected budgets and financial needs to complete initial programs
Offering key materials in a condensed version enables the foundation to quickly make a decision about startup funding and, if interested in your mission, the foundation will likely request that you submit a formal proposal for funding.
Check out our grant proposal template for more guidance on how to present a case of support to a funding body. Identifying private grant-giving foundations that specifically provide startup funding for new nonprofits can be a trial-and-error process, but the effort could pay off immensely.
Schedule a demo with one of our fundraising consultants. We'll show you how the Snowball platform has benefited other nonprofit organizations, and how it can help you.

Federal Nonprofit Grant Programs And Endowments
Federally funded programs are another major source of initial support for new nonprofit organizations, and the first place to look for these federal grant resources is the comprehensive database at grants.gov.
This official database requires a somewhat in-depth registration and application process, so be sure to set aside some time to work on it. Access to this information can become invaluable as your nonprofit grows, so it's worth it to put the effort in now.
Two of the largest, most active grant-giving federal bodies are national endowments devoted specifically to supporting nonprofit projects. These are:
The National Endowment for the Arts, also called the NEA, serves to fund individual or nonprofit projects that create new American art or increase access to art-based activities for communities around the country. The NEA awards several major grants annually, each focused on different types of artful engagement.
The National Endowment for the Humanities, also called the NEH, offers a wide array of support to organizations that focus on social, historical, literary, and educational topics. These grants are typically awarded to larger institutions, established scholars, and public media outlets, but the NEH also operates councils in each state that can provide resources, support, and guidance to smaller organizations.
Even if your organization is starting very small, these federal endowments can be great places to start your research. As hubs of the country's nonprofit network, they're excellent resources for learning more about grants, especially in conjunction with the federal grant database above.
Always explore your grant options when seeking initial funding. At the federal level, this support will typically need to be connected with a specific programming proposal, but more general startup grants and support are certainly available if you search for them.
Either way, it's usually a smart idea to have specific programming plans in mind even at the earliest stages of your nonprofit's development. As noted above, it's smart to have the groundwork laid for receiving support via a full set of online fundraising tools down the line. This way, you'll have everything you need to begin growing your footprint in the community!
The competition for federal startup and program grants for nonprofit organizations can be intense, so remain focused and dedicated to your mission. Increase your odds of securing financial support by showing that you're committed to your goals— and that you have the tools, systems, and software in place to meet them
State- and Municipal-Funded Grant Resources
It can be a great idea to narrow the scope of your search when seeking startup grant opportunities for your new nonprofit organization. Although grants at the federal level can be great sources of funding for growing nonprofits, don't forget to explore grant opportunities at a more local level. After all, state and city governments, regional commissions, and smaller foundations are often quite eager to invest in the growth of nonprofit networks in their areas.
This means that the opportunities to secure startup or program-specific funding for your nonprofit are fairly diverse at this level. They might include:
Your state or city government's website. This should be your first stop as you research state-level nonprofit startup grants.
NEH State Councils. As described above, the NEH councils in each state regularly offer resources and grants to nonprofits.
Databases of philanthropic foundations. Searchable databases that allow you to filter by region and state are a great way to identify private foundations, community-based groups, and corporate giving programs.
State government agencies and endowments. Most states have their own arts and/or humanities endowments too. Be sure to research every state-level opportunity.
Regional and municipal commissions. These groups can be invaluable resources not only for finding new funding opportunities for your community- and social-issue-based mission, but also for familiarizing your new nonprofit with the local landscape.
The grant writing process isn't just a huge part of starting a nonprofit, it's an extremely important element of keeping an established nonprofit running.
Remember, when looking for funding for your new nonprofit organization, you can search for general startup grants or grant funds with more specific programming requirements. Federal- and state-level grants typically have more specific requirements about how nonprofits will use awarded funds, but more general startup funds can often be solicited. Don't be afraid to reach out to any funding source for more information.


Bonus Nonprofit Startup Grant Tips
As you solicit startup funding and inquire about nonprofit startup grants, your organization needs to focus on its mission and be willing to conduct exhaustive searches for the right opportunities.
Here are a few helpful tips that might help guide you in this process:
Find an established nonprofit similar to your own. Reach out, introduce yourself, and ask their team about its early days. Looking to your professional peers and fore-bearers in the nonprofit space is a great strategy for focusing on what's already worked. A successful nonprofit can likely point you to the resources it relied on when first starting out.
Don't wait until you're completely official to get started. There's no way of knowing how long it could take to receive your nonprofit's 501(c)(3) status from the IRS, so don't wait to start pursuing your mission and securing funding. The IRS has special tax policies in place for organizations in this situation. Start building relationships and growing support as soon as possible.
Practice your grant-writing skills. Grant writing is incredibly important to most nonprofits. Unless yours is a national-level institution, much of your work and major projects will depend on grant funding. Study each section outlined in our grant proposal template to learn the ropes, and remember that a lot of the process involves trial and error.
Diversify your nonprofit funding strategies. You don't want to rely solely on grant funding to bankroll your operations. Instead, securing revenue from many different funding sources is a great way to ensure your mission is fully funded and has the resources it needs to succeed. Specifically, you might want to consider individual donations, corporate partnerships, event revenue, and fees for service in addition to the startup grants you're looking for.
Securing initial startup funding for your nonprofit can play a crucial role in the organization's future growth, so be sure to focus your efforts now. Make sure your nonprofit is building the strong community and professional relationships that are necessary for success.
Your nonprofit's team needs to be able to effectively and persuasively communicate the value of your mission to relevant funders. This is especially true when soliciting support in the form of a startup grant, although it remains relevant concerning individual contributions as well.
---
Funding a nonprofit organization is hard work, but it's worth it. Knowing where to find available resources and opportunities to further your mission is key! For more information and tips on starting your nonprofit and applying for grants, check out these additional resources: