Communication is key.
How you communicate with your congregation is vital for building and maintaining relationships. Trust between congregants and church leadership relies on open lines of communication so church members can participate in and understand their church's practices. 
After all, effective communication practices lead to a strengthened community and increased transparency, two essential factors for maintaining a spiritually prosperous body of believers.
We've compiled the best tips, tricks, and templates for common church letters to your congregation. Whether you're stuck and don't know what to say, or you're not quite sure how to get your message across, this comprehensive collection of resources is here to help.
For organizations of all sizes and types, digital engagement and virtual fundraising have evolved, and core communication strategies have changed along with them. Mastering these church letter strategies will not only help you write better letters, but it will strengthen your outreach across the board, too. Let's dive in.
Church Communication Letters FAQ 
If strategic communication is a new concept for you and your church family, you likely have some questions. Here are some of the most frequently asked questions concerning church-wide communication to give you a better idea of what you're stepping into.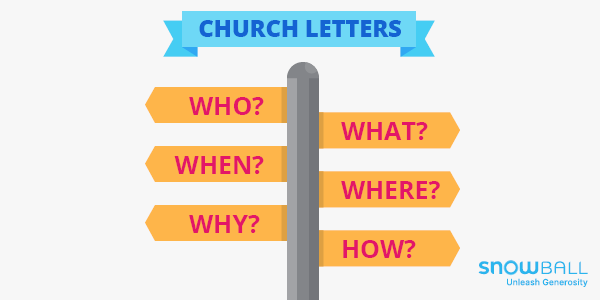 Why should I send church letters?
Church letters are a great way to keep your congregants up-to-date with all things happening within your church community. One specific genre of church letter—fundraising request letters—are a tried-and-true standard for churches looking to raise a significant amount from their congregations. They're effective because they're personal, meaningful, and thoughtful! 
When should I send church letters?
Timing your church letters is key to reaping the maximum benefits. You generally want to send out an invitation six weeks prior to any fundraising or church-wide event. Doing so will give your team plenty of time to plan your event and allow your church's members to pencil it into their schedule, boosting attendance. As for other types of fundraising and church communication letters, it depends on your needs and your church's calendar.
What should I include in a church letter or newsletter?
Be sure to include a brief history of the church as well as current events, special projects, volunteer opportunities, and other ways members can get involved. Some church letters may be strictly informational, while others maintain an emphasis on giving. For your fundraising focused letters, include a link or detailed instructions for making a donation.
The actual contents of a church newsletter vary from congregation to congregation, but the theme remains the same— keeping everyone up-to-date with church happenings. It's a great place to inform readers about upcoming and recent events, as well as offer an invitation for each recipient to get involved! Newsletters may go out on a weekly, monthly, or annual basis to a church and its members, but be sure to maintain a fixed schedule.
How do you begin and end a letter from a church?
Your church should strive to begin every piece of communication by personally addressing the recipient. Even when sent to every member of your congregation, direct letters are a form of one-on-one communication and your opening should reflect that. While your church members are valued members of your congregation as a whole, avoid addressing them as a general, impersonal group.
You can end your church letters on a meaningful note by having your pastor or a member of your church's leadership sign your ending sincerely. This adds a special touch to handwritten letters and allows the recipient to see the thought and effort that goes into each and every one.
How do you write a church invitation or welcome letter?
Church invitation letters are for individuals who have never attended your church before, and thus unfamiliar with your church's history, mission, and schedule. This letter serves as both an invitation and an introduction to your church. Stick to conversational, friendly language and provide a brief summary of your church's history along with an invitation to an upcoming event or gathering. 
Church welcome letters are for recipients who have attended your church once or twice. These individuals likely already understand most of the basics of your church, so your letter should focus on inspiring participation in upcoming events where your new members can get acquainted with your church's community on a more personal level. Recognize their previous attendance to make them feel seen, and then extend an invitation to an upcoming event. 
Should I send church letters via email or direct mail?
Emails are wonderful for fundraising— they're efficient, effective, and inexpensive. But they can also come off as impersonal, and no one saves a nice email. Letters add that little something extra, and that personal touch can mean a lot to congregants. For most congregations, the answer involves finding a perfect combination of both mediums for the best results.

Best Practices for Church Communication Letters
There are many ways to write a church letter, and the most effective strategies will depend on your congregation and your church leadership's relationship with their members. However, whether your church's correspondence is casual or formal, these best practices will create more vibrant lines of communication for both new church letter writers and those looking for a refresher.
1. Start with the P.S.
Eye-motion studies have proven that the majority of letter recipients scan first for their names and read the P.S. line shortly thereafter. For those who do read a letter from start to finish, the P.S. will be the last thing they read and will stick in their memory. Start writing your fundraising letters with this fact in mind. Think of an important fact, message, or reminder as you start drafting your letter and slip it in as your P.S. to ensure it doesn't get overlooked. 
2. Invest in your envelopes.
Before your letter is even opened, recipients will see your envelope and make assumptions about its contents. If you want congregants to open your mail and engage with its message, try investing in your envelopes first by using quality materials and engaging visual designs. 
Giving your letter recipients an easy way to respond or send a check in the mail can increase your response rates, especially for your fundraising-specific letters. Include a simple stamped and addressed return envelope, so donating will be fast and easy for your busy church members. Be sure to clearly state the URL of your online donation page, too.
3. Focus more on "you" than "me."
It can be easy to fall into the trap of talking about all the great things your church is doing, but you can make your church members feel more integral to their community by emphasizing how they are the ones doing great things. Seeing their efforts and past engagement recognized as important will make churchgoers more invested in continuing to participate in church activities. 
Your church letters can often accomplish this with subtle language choices. For example, instead of saying "Our church collected 500 cans for the food drive," say, "Our dedicated church members collected 500 cans for the food drive." This framing directly credits those who donated, which makes them feel seen and appreciated.
Schedule a demo with one of our fundraising consultants. We'll show you how Snowball can help you raise more and spend less.
4. Provide instructions for donating online.
In case your recipients don't want to sign, seal, and send a check, be sure to allow other giving methods as well. Provide readers with quick, easy, and secure ways to give on their computers or mobile devices instead. Include an easy-to-follow link (with detailed instructions) to your online donation page, your text-to-give number, and other donation methods your church has set up ahead of time. With a streamlined donation platform like Snowball, users can submit a gift online in less than a minute!
5. Keep the formatting easy-to-read.
Nothing's worse than a letter that's too hard to read due to too-small, brightly-colored, or strange-looking font. Your font should be appropriate and easy-to-read on a solid, light-colored background. If you want to overlay text on images or multi-colored backgrounds, use editing tools to create a shadow under your font or outline letters in black. If you're ever in doubt about what color font to use, remember that white text outlined in black has high contrast and will be legible on any background. 
6. Express gratitude throughout.
Few things encourage donations more than being thoughtful and thankful. Thank your letter recipients for their time, consideration, and for any past donations they may have made. It never hurts to thank someone multiple times, and personalizing thank you messages to include specific details about their donation (such as if it was at or for a specific cause) will elevate your letter above a generic thank you. 
7. Establish a foundation of church software.
Include a link to your church's website somewhere in the letter, such as in the header or footer. This will let supporters know where they can go to get more information about events and updates mentioned in your letter, driving further engagement. 
For fundraising letters, your donors will appreciate the option to donate from your website. Be sure to already have your online donation page set up and featured on your website, so letter recipients will know exactly where they can go to support your church.
8. Ensure a well-written letter.
Your letters' tone should match your church's culture to keep messaging consistent with what your members hear when they attend week-to-week. For example, if your church is a community gathering spot with a friendly, welcoming voice, make sure that tone is conveyed when putting together your church letters. 
It always helps to have another person read through the letter before you press "send" to catch any finicky commas or other typos. In addition to basic grammar, language should be clear, concise, and compelling to create a pleasant reading experience. 
By taking these considerations to mind, you can set your team up for a successful letter-writing campaign. Whether your goal is to bring in new fundraising revenue or simply to build relationships, follow these guidelines for success. 
9. Personalize your salutations and closings.
"Dear John," is already a more personal conversation than "To Whom it May Concern," or even "Dear churchgoer." Everybody likes to be addressed by name in a way that makes them feel special—in this case like a significant member of the church family. Keep careful track of your church members' personal information and past participation so each recipient can receive a letter tailored to them. 
10. Work with a dedicated direct mail platform.
Working with a dedicated direct mail fundraising platform can take the pressure off your own fundraising team. Plus, low-cost (yet effective) fundraising services like GivingMail can help you raise more for less than it would cost to print and mail your fundraising letters on your own. Direct mail platforms can also be a valuable resource if your church ever has questions about its mailing practices and campaigns. 
11. Customize church letter templates to fit your needs.
Templates can be useful tools for structuring your letters and ensuring you don't leave out important details, especially if you're writing your first letter. However, a vague request for money is not likely to bring in many responses. 
Take the time to customize your templates to your church by talking specifically about any special projects or events in need of some extra funding and where that funding will go. The clearer the picture you paint, the more likely the recipient will be willing to give.
Sample Church Communication Letters
All church letters are a method of communicating with your congregation and thus share certain characteristics. However, there are many types of letters and each serves a different purpose within your church's overall communication strategy.
Most church letters can be divided into one of two categories based on their purpose: communication letters and fundraising letters. Yet even within those groups, the possibilities are endless.
These church letter templates can be adapted and used to communicate with your congregation in a way that suits your church's needs. Here are examples of the most highly-demanded church communication and fundraising letters to get you started on your letter-writing journey!
Welcome letters
Your church's welcome letters should include a warm and inviting greeting. Be sure to thank the recipient for attending and encourage them to come back again soon. The sooner you send a welcome letter after someone has visited your church, the better. If you wait too long to reach out, they may think you've forgotten them!
SUBJECT: Thank you for visiting [Church name]!

We're so glad you joined us at [Church name] this past [day of the week, probably Sunday].

I hope you got the opportunity to mingle with some of our church family this week. We'd love the chance to get to know you [and your family] better. 

Here are some upcoming events we'd love to see you at! We hold a church service every [day(s) of the week] at [time(s) of service]. We also meet for [other activities— bible studies, community groups, volunteer opportunities].

Feel free to reach out at [email] or [phone number] to learn more about how you can get involved!

Hope to see you soon,

[Your name]

[Your title]

P.S. Check out our website at [URL] to learn more about us and get involved!
Newsletters
Church newsletters usually include news about current and future events in the church, including weddings, baptisms, mission trips, and summer camps, as well as past events and ongoing projects. Newsletters can be sent out on a weekly, monthly, quarterly, or yearly basis—just keep the publication on a consistent schedule so your members won't be left wondering when their next update is coming.
SUBJECT: Another incredible month at [Church name].

Here at [Church name], we [brief summary of mission statement].

That's why we take the time and resources to invest in [ongoing project or program] and [ongoing project or program].

This upcoming [timeframe], we are hosting [event] and we would love for you to join us! On [date] at [time], we will be [description of event]. Contact us if you're interested in getting involved.

This past [timeframe], we have completed [project or event] which had an excellent turnout. Over [number of attendees or other metric] came out to [activity] with us!

Thank you for all of your continued prayer and support.

Best,

[Your name]

[Your title]

P.S. Check out our website at [URL] to learn more about what's happening at [Church name].
Letters of invitation
A letter of invitation includes an explicit invitation to join the church as an official member. The letter should also include a membership card to fill out and mail back, as well as any instructions for informational meetings to learn more. As soon as you're ready to invite a new member into your congregation, you can send out a letter of invitation.
SUBJECT: Welcome to the [Church name] family, [recipient name]!

We see you've been attending [Church name] for a while now, and we're hoping you might be ready to take the next step— becoming a member.

To us, membership means [brief summary of membership at your church]. We are a [denomination] church that believes [brief summary of mission statement].

If you're interested in learning more about becoming a member, please contact [pastor's name] at [email] or [phone number].

[If applicable] We'll be hosting an informational meeting on [date] at [time] in [location] for all interested in taking this next step.

Sincerely,

[Your name]

[Your title]

P.S. Check out our website at [URL] to read more about what we believe— and what it means to be a member.
Missionary letters
Missionary letters include key updates about the communities in which missionaries are serving. Some will ask for additional support, but often they're simply informational. Missionaries can send out updates as frequently as they're able but it's most common for them to be sent monthly.
SUBJECT: Keep [missionaries' names] in your prayers.

Many of you know [name of missionaries], our missionaries currently stationed in [location]. They've been a part of our church family since [brief summary of their history with your church].

The team currently consists of [names of each individual including children] who have been overseas for [length of time].

They are currently working in [location] to [overall goals] by [specific activity] and [specific activity].

As always, the [name of missionaries] welcome your prayers and support.

 Thanks,

[Your name]

[Your title]

P.S. Check out our website at [URL] to stay up-to-date with all of our missionaries' work.
Letters to inactive members
A letter to an inactive member should include empathy for the person whose church attendance has recently declined, and a sincere request for them to return. Ask if there's anything your church family can be praying for as well! You should let a reasonable amount of time pass before reaching out. For instance, if a regular attendee hasn't been seen in months, it might be time to send a thoughtful letter.
SUBJECT: [Recipient's name], we miss you at [Church name]!

Long time, no see! We noticed it's been a while since you've attended one of our services and just wanted to reach out again and see if there's anything we can do.

We'd love to hear more about your current phase of life and how we can be praying alongside you.

Please join us for a worship service on [date] at [time], or take part in one of our community events!

We hope to see you soon.

Best,

[Your name]

[Your title]

P.S. Check out our website at [URL] to get involved again.
Letters of recommendation
If a member has come to you for a letter of recommendation, you should make sure that it's specific, sincere, and succinct. Take the lead from the recommended party, and make sure you adhere to whatever deadlines they specify. Nothing is worse than a late letter of recommendation!
SUBJECT: Letter of recommendation for [individual's name].

[Individual] is a [positive characteristic], [positive characteristic], and [positive characteristic] person.

Throughout the [length of time] I've known [individual], I've gotten to see a wonderful person develop and grow.

Through our time working together at [experience] and [experience], I know [individual] is a [positive characteristic], [positive characteristic] individual that anyone would be lucky to have.

 Sincerely,

[Your name]

[Your title]
Letters of transfer
Letters of transfer include information about the member's standing with your church as well as a request for notification when the new membership begins. These letters should be sent as soon as possible after a member notifies you that they'd like to transfer their membership to a different church.
SUBJECT: Letter of transfer from [old church] to [new church].

To [new church],

This certifies that [individual] is a member in good standing at [old church] since [date of original membership].

At their own request, [individual] would like their membership to be transferred.

We affectionately recommend [individual] to join your fellowship, and wish you all the best of luck.

For further information, please do not hesitate to contact us at [email] or [phone number].

Best,

[Your name]

[Your title]
Letters of resignation
Whenever a member of your leadership retires or transfers churches, it's important to send out a church-wide letter of resignation. This should include a brief explanation, an expression of gratitude, and a tentative plan going forward. Send this letter as soon as they feel comfortable enough to make the announcement to the entire congregation.
SUBJECT: [Leader's name] will miss you all!

I regret to inform you that I, [title] of [Church name], will be [resigning/transferring to new church] within [length of time until it takes effect].

I will miss all of you at [Church name], but ultimately feel that God is calling me to [new church/location/career].

Due to [brief summary of reasoning], I have decided this is the best choice for myself and my family.

I appreciate every single one of you for the environment and experiences at [Church name], and it is an opportunity I will forever cherish.

Feel free to reach out to me at [email] or [phone number] for any further questions or concerns.

Best of luck,

[Your name]

[Your title]

P.S. Check out our website at [URL] for any updates and to stay in-the-know.

Sample Church Fundraising Letters
Strategically crafted church fundraising letters have the power to raise more for your church's top needs. Whether you're planning to send these appeals via email or direct mail, here are some fundraising letter templates and examples to give you a headstart.
Church donation letters
Church donation letters include information about the current state of the church and how continued donations would help further those goals. Donation request letters can be sent out multiple times throughout the year—there's no one "perfect" time to send out a church donation letter, though the holiday season often sees increased giving rates. 
SUBJECT: [Recipient's name], we could use your support.

[Church name] is a community dedicated to [brief summary of mission statement]. That's why we make it a part of our mission to [activity or project] and [activity or project].

Projects like these are able to be completed thanks to generous contributions from churchgoers like you.

Would you prayerfully consider giving to our church and joining in the mission to [overall goal of the church]?

Thank you in advance,

[Your name]

[Your title]

P.S. Check out our website at [URL] to make a donation in seconds.
Schedule a demo with one of our fundraising consultants. We'll show you how Snowball can help you raise more and spend less.
Special event or project letters
Special event or special project letters should include specific details about the time, place, and date of the event, as well as information detailing your specific monetary needs. Event letters should be sent out at least six weeks before the event, and special project letters should also be sent out fairly early as well.
SUBJECT: We're planning [event or project]. You can help.

You're invited to our [name of event] taking place on [date] at [time] at [location].

Even more than that, you're invited to become a part of the dedicated team that makes pulling off events like these possible.

Our goal is to raise [fundraising goal in dollars] by [end of fundraising campaign] so that this event can be an exciting and successful time.

Would you be interested in helping fund our [special project] and being a part of the good we're doing here at [Church name]?

Thanks,

[Your name]

[Your title]

P.S. Check out our website at [URL] to give or learn more about [event or project].
Sponsorship request letters
Sponsorship requests should include specific information about the event or project that needs sponsoring and include any benefits that sponsorship can offer an individual or business—such as advertising and good publicity. Church sponsorship letters should be sent out several months prior to the start of the event or project that's being funded.
SUBJECT: Help us fund [event or project]. 

We at [Church name] are [brief summary of church mission and background].

We are currently fundraising for [event or project] and are looking for some dedicated, generous sponsors like you.

Through [event or project], we are looking to [purpose of event or project] together. This is so important because [significance of event or project].

By becoming an official sponsor of our [event or project], we can offer you specific benefits as well. Not only will you receive quality advertising at our event, but you can also improve the standing of your business within the community.

We are currently seeking sponsors at these levels [suggested fee], [suggested fee], and [suggested fee] that will receive [sponsor perks].

If interested, please contact us at [email] or [phone number].

Thank you for your consideration,

[Your name]

[Your title]

P.S. Check out our website at [URL] to learn more about us and how you can help.
Auction item request letters
Auction item request letters should include concrete information about your upcoming auction and a direct ask regarding any items you need for it. You should make sure to send out your request letters at least three months before your planned auction to allow for the greatest results.
SUBJECT: How can you help out with our annual auction?

As you may know, we host an annual fundraising auction at [Church name]. With this year's event quickly approaching on [date], it's time to start collecting valuable items for auction!

We are currently seeking auction items like [example], [example],  and [example]. 

If you have other suggestions or know of a different item or service you'd like to donate, please don't hesitate to get in touch.

If you're able, please help our auction be a success by donating gift cards, merchandise, services, and more.

For more information on how to get involved with our annual auction, feel free to reach out to [name] at [email] or [phone number].

Best,

[Your name]

[Your title]

P.S. Check out our website at [URL] for updated information on our annual auction and how you can help.
Church building or repair letters
Church building or repair letters should include details about the construction plans with specific needs addressed directly in the letter. Minor repair letters should be sent out a few weeks in advance, while major repairs and large construction projects necessitate letters be sent out a year beforehand.
SUBJECT: Help us [repair, expand, build] our house of worship.

Here at [Church name], we know that the building is not what defines the church. The body of believers defines the church, but the building is a special place to convene and worship together.

However, sometimes it's important to invest time and resources into building and maintaining our worship space.

That's why we are choosing to [repair, expand, build] our house of worship in the upcoming [timeframe].

Our plan is to [brief summary of building plans] in order to [main purpose].

Yet we can't do it alone. Please consider donating to our church building fund and being a part of the change and expansion the Lord has in store for us.

Thanks,

[Your name]

[Your title]

P.S. Check out our website at [URL] to make a donation and be the first to know about any updates.
Mission trip letters
Mission trip letters typically detail the plans for the trip and the needs of the community being served, as well as information about the trip's overall cost. Be sure to send out mission trip letters potentially four or five months in advance of the trip itself to help pay for plane tickets and other travel expenses. 
SUBJECT: Can you support our mission trip to [location]?

We're going to [location]! Here at [Church name], we've gathered a team that's heading to [location] on a [length of trip] mission trip this upcoming [week/month of trip].

The team is comprised of [number of participants] [youth, young adults, all ages, etc.] that have a heart for missions and spreading the word of God.

In [location], we plan to [event or activity], [event or activity], and [event or activity]. This is important because [describe the need and what you can offer].

Are you able to support our team as we prepare to travel to [location] within the next several months?

Best,

[Your name]

[Your title]

P.S. Check out our website at [URL] to support our mission trip and learn more about what we'll be doing.
Missionary support letters
Missionary support letters, as opposed to mission trip letters, tend to support long-term missionaries working overseas. They're sent from the field and include updates on the places being served and direct asks for support. These letters can be sent whenever a missionary in the field feels that they need extra help for a particular project.
SUBJECT: Support our missionaries in [location].

[Names of missionaries], our dedicated missionaries stationed in [location] need your help!

[Names of missionaries] are currently working with the individuals of [location] to [overall objective]. They're doing so by [activity], [activity], and [activity].

That's why they're humbly requesting monetary support from our church congregation to help them as they spread the Good News around the world.

Please consider making a donation and being a part of what God is doing in [location] today.

Thanks for the support,

[Your name]

[Your title]

P.S. Check out our website at [URL] to support [missionaries' names] and learn about their mission.
Thank-you letters
Thank you letters should include a "thank-you." But they should also provide recipients with an idea of how their contributions (monetary or otherwise) made a difference. Send thank-you letters as soon as possible, typically within 48 hours of a donation or event is the best practice.
SUBJECT: Your gift makes our mission possible.

[Recipient],

Thank you so much for your generous contribution of [amount of donation] on [date of donation].

Because of supporters like you, we are able to [brief summary of mission statement].

Recently, funding has gone towards [current or recent project] and [current or recent project].

We appreciate your gift and can't wait to see how the Lord will continue to use it in great ways.

Thank you again,

[Your name]

[Your title]

P.S. Check out our website at [URL] to stay up-to-date on how your generous donation is helping us make a difference.
Pro tips for using church letter templates
Your church letters should be personalized to each recipient for maximum engagement and increased responses. However, that doesn't mean it's a bad idea to use templates. It just means it's important to take the time to adjust any templates to meet your own church's needs.
Here are some of our top tips for utilizing these church letter templates to your best advantage:
Be conversational in your writing.

You're writing to your church members, not your 12th grade English teacher. Feel free to write as though you're talking directly to your audience. No need to be overly formal, especially considering you likely already have personal relationships with much of the audience.

Customize the letter to include relevant information. Templates are vague so many churches can make use of them. Add extra information about your church's mission, upcoming events, and other matters of import for your church community to make your letters relevant to your members.

Personalize each address and content.

Addressing your church members by name will make them feel like part of your church's family. You can further make your members feel seen by including details specific to your recipient, such as referencing past volunteer work.

Get creative with your design.

Create visually appealing letters your church members will want to hold onto. Use colored paper or graphic designs on the front of your cards and package them in high-quality envelopes. 
By implementing these simple tips, you can substantially improve your personal fundraising efforts and draw in revenue from new and established church members alike.
---
Wrapping Up
Church letters are a great way to stay up-to-date with your entire congregation as well as make personalized requests for donations. Your communication letters set you up for strengthened relationships with church members, while your fundraising letters lay the foundation for a successful giving campaign.
However, it's important that you first have a strong foundation of fundraising software in place, to which you can direct eager donors to make their gifts. You can get started with Snowball's free suite of fundraising software and begin building your foundation today!
For more information on church fundraising and maintaining effective communication with your churchgoers, see the following resources: