This post was contributed by Sandy Rees from Get Fully Funded.
If you don't have an annual fundraising plan, you're not alone.
Most folks in small nonprofits have no fundraising plan to speak of.
Or maybe they have a few ideas about what they want to do during the year, but nothing is fleshed out or written down anywhere, which means it isn't a real plan.
The bad news is that without a plan, you'll spend a ton of time shooting from the hip, making things up as you go, and praying for something, ANYTHING, to work.
And your results will reflect that disorganization.
The good news is that there IS a way to create a simple fundraising plan to guide your activities for the year so you never have to wonder what you should be doing next.
---
Why You Need a Fundraising Plan
People who take their nonprofit seriously know they need a fundraising plan, but they either can't seem to carve out the time to do it or aren't sure what to include in their plan.
So, they don't even take a stab at it.
And that's too bad.
You see, an annual fundraising plan is like a treasure map that guides you to the exact activities that will bear the most fruit during the year, ensuring that your nonprofit can fulfill its mission.
Your plan keeps you focused and on track so you spend your time each day doing things that will raise the big bucks your nonprofit needs instead of generating dribs and drabs that don't cover all the expenses.
An annual fundraising plan makes it easier to get your Board engaged in fundraising because you can show them in writing what activities are planned for the year and let them choose where they want to help. Your fundraising plan also makes it easy to deflect any "great new ideas" your Board, staff, or volunteers come up with because when they offer you an idea, you can show them in writing what you already have planned and tell them you'd love to add their idea, but you can't unless you take something off the current plan. That tactic is handy to keep you from overcommitting yourself!
So, why don't you have a fundraising plan?
Whether you're a perfectionist and need the right template or you worry that a plan will confine you to exactly what's on paper or if you just feel like you don't know enough to create a plan, it's ok.
Whatever the reason, try to set it aside, because you'll be so much better off when you have a plan and are purposefully moving toward your goals. Seriously, the big key here is that done is better than perfect.
A fundraising plan that's 80% complete but 100% implemented will always outperform the plan that never gets put in place.
Your imperfect, good-enough, fluid fundraising plan will give you a blueprint for the year, so you always know what's happening next. Plus if you include revenue projections (which you should), you'll have a good idea of cash flow each month.
With your plan, you'll know exactly what you should be doing every day without guessing.
You'll feel confident that you aren't wasting time on unproductive tasks. And you'll be better able to leverage your precious resources of time, energy, and money on things that will give you the greatest return on investment.
---
1-Page Fundraising Plan Template
There are lots of different templates out there you can use, but to keep this simple, we're going to use my Summary Calendar. It looks like this: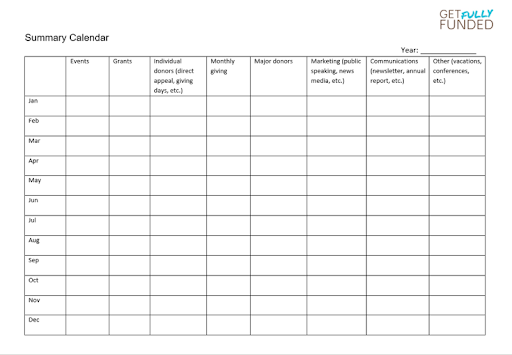 The Summary Calendar gives you a way to break down all your activities into several main categories so you can see at a glance everything you have planned for the year.
You can see times when you have little going on and times when you have too much going on. This will help you plan ahead and smooth out the hills and valleys.
---
How to Use the 1-Page Fundraising Plan
The broad categories on the Summary Calendar are ones that you should be thinking about to create diverse revenue streams for your nonprofit.
The Events column is meant for fundraising events, but you can put other kinds of events there if that helps you see everything at a glance.
In the Grants column, put the deadlines for the grants you KNOW you're going after. If you have grant opportunities with no deadline, go ahead and pick a time and put them on the calendar. It's easy to never get around to those if you don't.
In the Individual Donors column, put anything that has to do with individual donors, like direct appeal, Giving Tuesday, donor acquisition activities, donor cultivation activities, and so on.
The Monthly Giving column is for recruitment and stewardship activities for monthly donors. This one is so important that it gets its own column!
The Major Donors column is where you identify who you want to cultivate deeper relationships with so you can be purposeful about it.
The Marketing column is for spreading the word in the community and meant for speaking gigs, pitching stories to the news, parades, open houses, and so on.
The Communications column is more for staying in touch with current supporters, including newsletters, annual reports, and video updates.
In the last column, put conferences, trainings, planning days, and vacations.
Those 8 columns should give you a place for everything you need aside from activities that are directly program related. If you need an extra column for something else, feel free to add it.
Ok, now here's how you use it:
Start by filling in the knowns – things you know for sure are going to happen, are already scheduled, or have hard deadlines. If you already have an event scheduled, put it on the calendar. Any grant deadlines go on here, too. Then add anything else you know for sure is locked in.
Then add in everything else. Be sure to include donor warm touches so those don't get left out. You can even color-code them to make sure you have 3 times as many Non-asks as Asks, so you aren't overasking and risking donor fatigue.
As you fill in your Summary Calendar, notice the number of fundraising events you add. Ideally, you should only host ONE fundraising event each year and make it as big as possible. Lots of events can eat up your time and energy and don't really bring a big return on investment for the time, energy, and money you spend.
---
The Bottom Line
Your fundraising plan is a critical tool in helping you reach your annual fundraising goals. Get it done and in writing so it's easier to implement and manage.
Take the time to work through the process, including adding in revenue and expense projections, and you'll have what you need to successfully raise the money you need this year.
Want to create your own 1-Page Fundraising Plan? Download our Summary Calendar Template at http://getfullyfunded.com/plan.
---
Guest Author: Sandy Rees – Get Fully Funded
Sandy Rees is the Founder and Chief Encouragement Officer at Get Fully Funded. She shows leaders of small nonprofits how to fully fund their dream so they can make the difference they want to make in the world. She has helped dozens of small nonprofits go from "nickel-and-dime fundraising" to adding 6 figures to their bottom line. As a trainer, she shows her students how to find ideal donors, connect through authentic messaging, and build relationships that stand the test of time, so that fundraising becomes easy and predictable. Find out more at www.GetFullyFunded.com.